Jun Planning's Dal® news
Please
e-mail
me for prices and shipping quotes.

For 2007 Pullip dolls, please click here.
For 2006 Pullip dolls, please click here.
For 2005 Pullip dolls, please click here.
For 2004 Pullip dolls, please click here.
For 2003 Pullip dolls, please click here.
Dal dolls
Taeyang's kid sister is in stock too!
She is 10.35 inches tall or 263 mm tall.
Coco Dal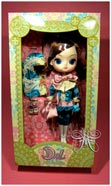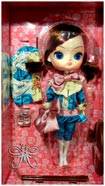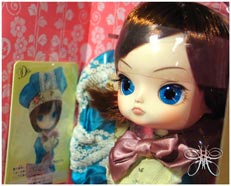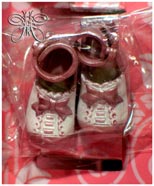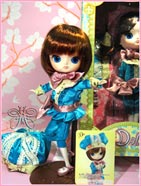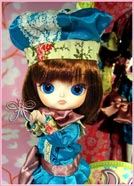 In Stock

August 2008 Pre-Order
Magical Pink-chan Dal!



Dal Dal, Luda!!!
I'll be more pretty by my own magical power!!
I'm the cutest 'magical girl' in the whole world. !!!


She wears a lovely pink-colored one-piece dress and it looks like a lovely pink flower.
Please pay attention to her big ribbon on her back also!!
Microphone is her magical item!!!
Accessories Included:
- 'Magical' microphone
- Headdress
- Choker
- Doll Stand

Colline Dal

IN STOCK!




"When I look up the sky, The cotton candy will follow me.
Fluffy and feathery. Let's play hide and seek!"
Comes with: Bonnet, sheep pochette and doll stand.
Each doll also comes with collector's card.
Order today!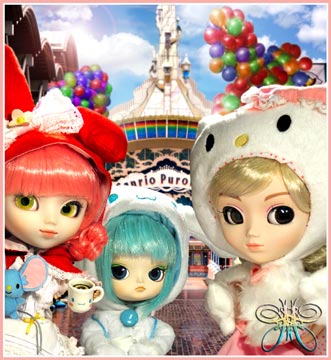 Cinnamoroll Dal




In Stock now.




Coral Dal



DAL HANGRY
Following Pullip, DAL collaborates with h. NAOTO !!



First corroboration of DAL and Fashion designer's brand.

HANGRY & ANGRY (by h. naoto) has released the same dress which
DAL HANGRY is wearing in human scale !

Why don't you dress up to match with your DAL HANGRY ?



+

HANGRY & ANGRY brand logo is printed on the T-shirts !





+ Lovely frilly skirt under the check apron !




+ Cute tail on the back of outer parka !



Includes:

- Stuffed teddy bear called "ANGRY"

- Pochette (bag)

- Doll Stand



Jolie Dal!!




Isn't she just adorable.

Look at that hairstyle!


Perfect for redressing!!!

Beautiful braid hair style.
Cute and neatly, middy blouse and skirt style!
With a big ribbon, back style is also cute.

Fairly soft, jouet is her precious teddy bear !!



Kanaria Dal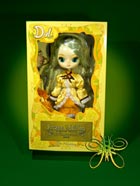 Frara Dal in stock now



Sold out.
Rot Chan Dal
New Rot chan Dal Doll!
Look at her lovely face.
Everybody's checking her out!
~~Phew , it's too much bother of errand.
I love swining loitering I enjoy going outside!! (~

Hina Ichigo
In stock now.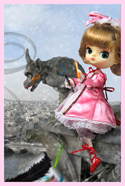 Sooni Dal

"Look, where are bubbles blowing to?
To this way, and that way.
They are going to the place where Taeyang is there !! "


Drta Dal doll
Fiori

WARNING: ALL RIGHTS RESERVED. THIS WEB SITE, PAGES OR PART THEREOF MAY NOT BE REPRODUCED IN ANY FORM WITHOUT PERMISSION IN WRITING FROM 'Magma Heritage' .Copyright Magma Heritage 1999- 2008